Product: Marvel Comics Jacket Review
Product: Marvel Comics 80th Anniversary Baseball Jacket for Adults
Price: $49.99
The Cheapest Place To Buy: ShopDisney
Sizes offered: S, M, L, X-Large, XX-Large
Guarantee: Quality
My Rating: 10/10
I did not realize we are at officially 80 years of Marvel giving us comics of all heroes in characters of all shapes, sizes and powers with their own moral battles that help them navigate and master their abilities to best use them to help those around them. With this being said I ran into this great Marvel Comics jacket that honors the many years and heroes created by Marvel. Once I explain why this Marvel Baseball jacket is perfect then you will understand as well. You can find this Marvel Comics jacket for men, as well as, there are a kids Marvel jacket that is available for all you fan. Now lets look at the best features about these Marvel jackets for men and kids.
Click the image below to find where to get these commemorative jackets:
Celebrate 80 Years of Marvel Comics With This Marvel Baseball Jacket
Even though this may not matter much to some of you one of the things I love most about this jacket is the theme of the jacket itself. Why not make a memorable Marvel comics jacket that helps us remember the stories and times that we all love with Marvel heroes. To be able to have a jacket that is a constant reminder of this is just good to have as a fan in my opinion, not to mention the Marvel baseball jacket is just stylish anyway.
Love The Inner Design Of The Marvel Comics Jacket
If you look on the inner lining of this jacket you will find another great feature of this Marvel comics jacket. You will find the faces of all Marvel superheroes that have been introduced to us over the years. This design is what makes this jacket so memorable about the past 80 years of Marvel.
Front Pockets on Marvel Jackets for Men
You can still have two places to put things in this jacket with spacious two front jackets that have wide openings to make it easier to put items like keys, wallets etc on your person to make these things easier to carry around. Also, if this means anything to any of you, this Marvel comics jacket has a metal snap front and for secure closing of the jacket.
You Can Also Choose Kids Marvel Jacket
I mentioned this earlier but I finally came across a cool Marvel comics jacket that comes in adult fit as well as sizes for kids. The jacket has the same design on the inside and out as the adult jackets so you can make sure your son, daughter niece or nephew or grand kids has this cool jacket to help them acknowledge their favorite Marvel heroes and how long they have been around us as fan.
You can click the image below to find where to get this kids Marvel jacket as well as the Marvel jackets for men: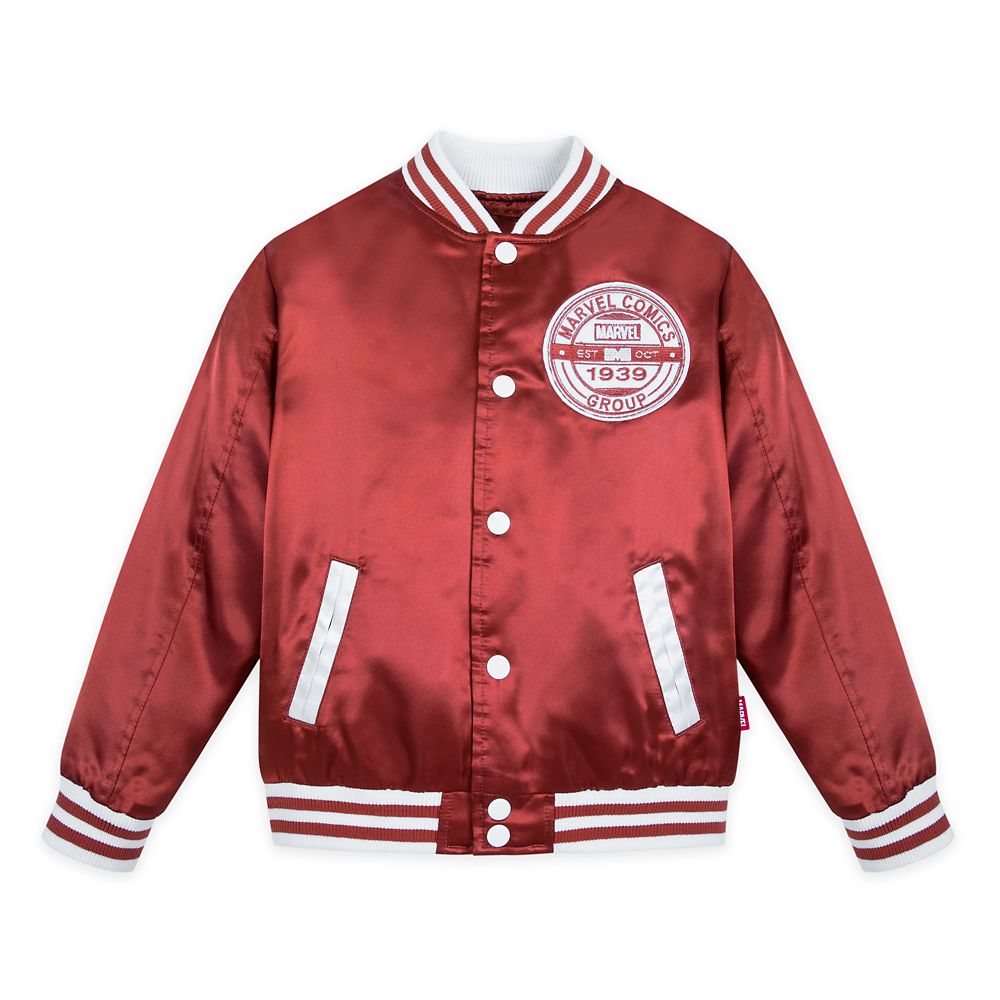 Let me know what other jackets you have found for Marvel comics or any other items that help celebrate 80 years of greatness and let me know what you found in the comments below or ask me any other questions about these Marvel comics jackets reviewed.
Always Remember Marvel Forever!
– The Marvel Summoner
Please follow and like us: